Residential
or
Commercial

Rental Property Management Software
America's Favorite!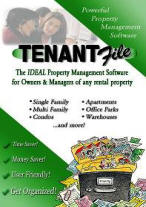 Saves you time - saves you money!
Single Family Homes
Multi-Family Homes
Apartments
Condominiums
Townhouses
Warehouses
Office Buildings
Mobile Home Parks
The Tenant File is a full featured yet simple property management software.
This excellent rental software includes separate ledgers for your Tenant and Owner accounting.
It is well designed to make finding your information a breeze.

.
Free. Yes, that's right - you didn't read it wrong. With a new purchase, we offer free 2 months phone and free email support for the past 2 versions. Think about how many software companies offer that kind of customer service! Just call our customer service number between 10am and 2pm CST or email if you have a question.

Our rental property software is easy enough so you shouldn't have to call. But if you do, we'll be there to answer your questions.

That is just one of many reasons the Tenant Fileis America's number one Rental Property Management Software!
We know that the Tenant File Property Management Software will fill your needs. You can 'try before you buy' the product for free by downloading theTenant File Sample Program.

The Tenant File software for landlords is helping thousands of property owners and managers every day.